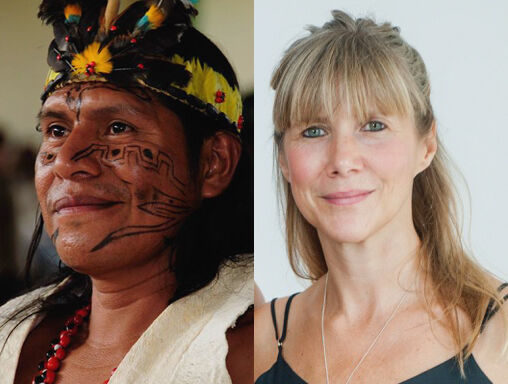 Friday 27th August, 10-am – 5pm
Samsara Retreat, Kent
This unique day will be combining two powerful healing methods. An opportunity to set intentions, let go of your deepest programmes, find space, purpose and make way for the next part of the process that we are all sharing at this time. An important part of this heart opening and grounding journey will support insight, flow, creativity and authentic connection. Kurikindi will be sharing his wisdom and teachings from the Amazon. He will be sharing his knowledge and healing powers on working with plant medicines and how we can learn to reconnect to nature and the elements.
Rebecca Dennis will be leading you through embodied breathwork sessions, to clear restricted breathing patterns and let go of past stories, release negative thought patterns, trauma, tension and blockages. This helps with bringing in more energy, clarity and focus leaving us feeling fully alive, positive, lighter and connected on all levels.
Kurikindi is an indigenous Amazonian shaman, born in the rainforest in Ecuador and comes from a long line of traditional intuitive Amazonian Shamans.
Since very young, he has walked the path of a shaman. In his family there is no separation between every day life and shamanic life. Before he could even walk or talk he was immersed in the shamanic way of life. His family travelled long distances to other countries in South America to spend time with shamans from other cultures and nationalities to learn and share knowledge and experiences. Kurikindi had the unique opportunity to learn from, and work a long side both male and female shamans as both of his parents and both of his grandparents were shamans. This is a very unusual situation in the Amazon. His life changed dramatically when he was 12 years old. He had to save the life of a powerful and well known shaman, his father. After this and although still young, he was recognized as an adult shaman. Now at 45 years of age, still young by most shamanic standards, he finds himself here in the UK, ready to talk, to learn and to listen
International author of 3 published books, public speaker and workshop leader, Rebecca Dennis is the founder of www.breathingtree.co.uk.  Her latest book Let It Go is now available.
She has practices in London and Kent and teaches at retreats and events around the world. Rebecca discovered breathwork 12 years ago after studying for many years, anatomy, somatic bodywork, hollistic massage and other therapeutic and energy techniques. She has studied with many masters and influential trainers in breath and body based work is continually inspired by the simple power of our breath and how it can change lives including her own.
Places are limited to 14 people and will require a short conversation first to join the group.
TO BOOK:
Email rebecca@breathingtree.co.uk

PRICE:
£180
Please bring water and light snacks. We advise that you detox 2 – 3 days before.
TO PAY:
First Direct
30135704
40-47-87