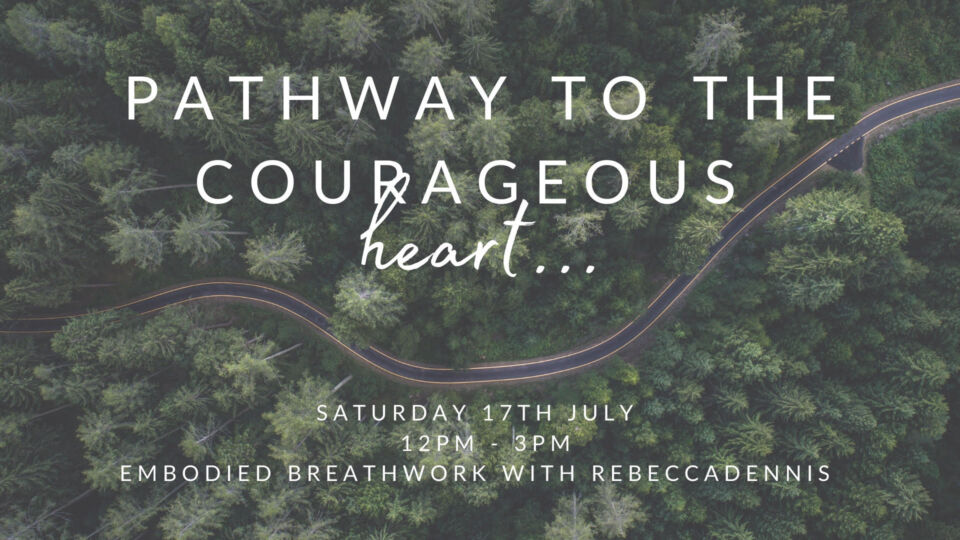 Embodied Breathwork With Rebecca Dennis
Saturday 17th July 12pm – 3pm
To fully feel love, joy and compassion, we also need to honour the parts of ourselves that make us want to distract, contract or run away. We often reject our needy parts, the fearful parts, the angry parts but these are all the parts of us in this human experience and when all our needs are met and understood we can share our fullness with others. When you heal trauma, you heal the nervous system, when you heal the nervous system, you heal the emotional body. To heal trauma we have to allow ourselves to be vulnerable and feel all the feelings. The breath is the key to guide us from the mind to the heart.
This session is an opportunity to set intentions, let go of deepest programmes, find space, purpose and make way for the next part of the process that we are all sharing at this time. An important part of this heart opening journey will support insight, flow, creativity and authentic connection to Source. Rebecca will lead you on a powerful journey with your breath taking you away from the mind and into your body.  By being present with all the feelings, anger, love, joy, pain and frustration we are able to sit with the courage of our hearts and come to a place of compassion finding a path from reactivity to the willingness to feel what is difficult to feel.  In doing this we raise our inner vibrations, let go of tension and heavy feelings leaving you on a natural high with a sense of calm, clarity and blissful energy. You will hear the science of how correct breathing patterns help improve both your physical and mental health and be given simple tools to change your mental and physical states by using conscious breathing.
Reduce stress and anxiety, increase energy levels, improve sleep, improve creativity, induce flow states, increase athletic performance and cardiovascular health – Breathwork has benefits for everyone.
Expect open-heartedness, inner peace, clarity, access to higher states of consciousness and a strong connection to yourself.
Rebecca Dennis, is author of 3 published books, speaker and breath coach is the Founder of www.breathingtree.co.uk. Rebecca has been practicing holistic and alternative therapies for over 15 years and has trained with Judith Kravitz, Dan Brule, Donna Fahri, Max Strom and other masters and influential teachers of breathwork, bodywork and healing modalities.
Featured on BBC Radio, This Morning, The Telegraph, Sunday Times and Psychologies. Her clients come with many various issues including breathing issues, stress, anxiety, addiction, abuse, depression, ME, respiratory problems, trauma, sleeping patterns, focus, lack of energy, physical problems and low self esteem.
Spaces are limited. To book go to:
https://www.eventbrite.co.uk/e/path-to-the-courageous-heart-embodied-breathwork-with-rebecca-dennis-tickets-159688533703