Event Navigation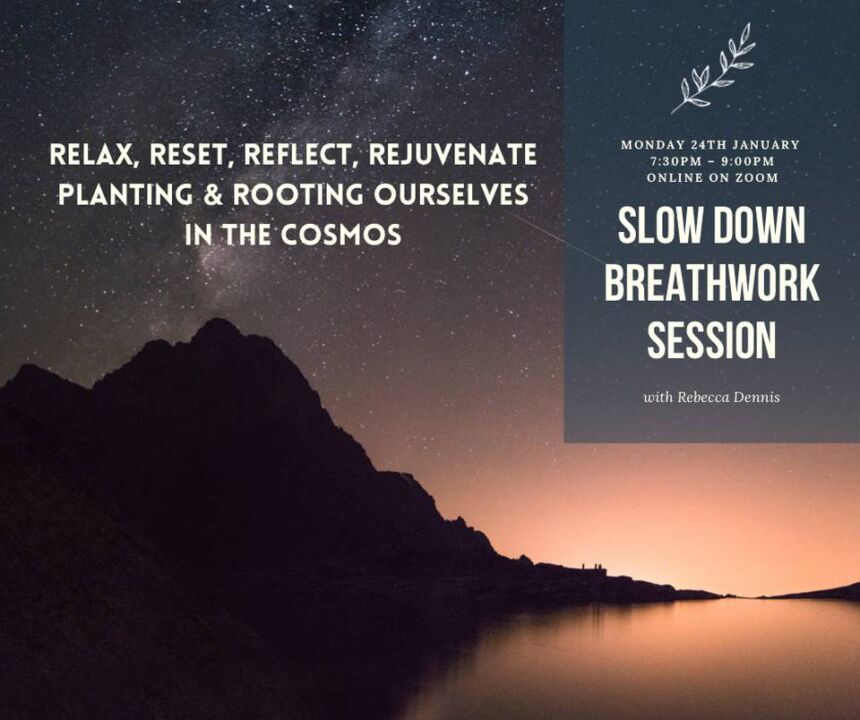 Slowing down is the fastest way to heal and repair our minds and bodies.
In this session, you will experience and learn breathing techniques to help you stop and relax deeply. This is a 90-minute breathwork journey dedicated to you. I will hold a space that will support you in upgrading your immune and breathing systems, that will help you connect to your emotions and let go of what is not serving you.
This session is suitable for all, beginners and experienced alike. I will share the science of how correct breathing patterns help reset the nervous system and improve your physical and mental wellbeing. I will give you some simple tools that can help you change how you think and feel just by using your breath.
Breathwork benefits everyone in so many ways, from relaxing the body to balancing the nervous system to reducing stress and anxiety and helping improve sleep. We all need a good night's shut-eye, yet we scrape by with a few hours whilst spending time worrying in the day about not getting enough. In this workshop, we will journey into a space between awake and asleep. I will take you and your body into a profound state of relaxation so you can turn your attention inwards. A place where deep transformation within the nervous system and subconscious mind is possible.
This month's theme is 'AIR' and exploring emotions around loss.
When we experience loss, we feel grief, sadness, overwhelm and anger and globally, so many of us are experiencing these emotions. And in these times of high anxiety and the need to survive, we can often find ourselves bottling our feelings and pushing them back down. But the stagnation of this natural process, though, inhibits our ability to fully let go, grieve completely, and create space for the new to enter.
Because there are power and gifts to be found in grief and sadness when we allow these emotions to move through us. As a society, we fear these emotions. We worry that they overwhelm us, slay us even and that we may never rise up from them. But by acknowledging them, we can make friends with them and find the light within them. And we can better honour the deep sense of love which resides at the heart of every loss. Love for others, love for ourselves, love for our planet. If we block emotion, we also block love, and I believe that to truly live, we have to allow ourselves to truly feel.
I will hold a safe space in this session and lead you on a powerful journey with your breath. A journey that will take you away from your mind and into your body; that will raise vibrations and leave you on a natural high, feeling calm, clear and grounded.
There is cosmic magic to be found in the process of being present with our true self and feelings.
I'm really looking forward to seeing you. Come dressed for relaxation, in the comfort of somewhere warm where you won't be interrupted and feel you can let go. Bring mat if you have one, pillows, blanket and water.
Any questions, please email rebecca@breathingtree.co.uk