Event Navigation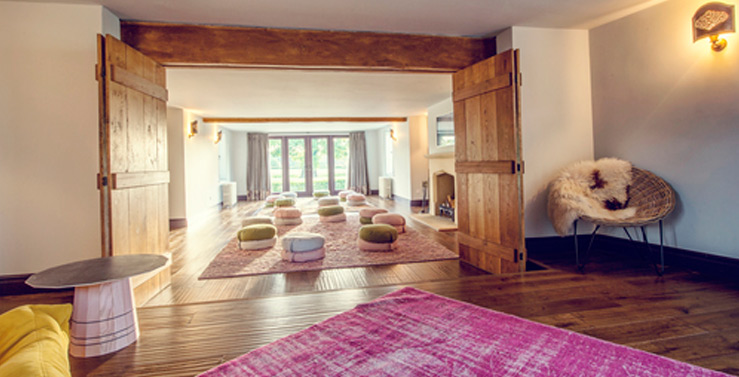 Yoga & Transformational Breathing Retreat. Move. Restore. Breathe. Relax. Fri 14th – Sun 16th October 2016. 42 acres, Witham Friary, Frome, Somerset
October is a great time of year to kick-start an energising routine for the body and learn new reflective ways to master the mind. With the chill of Winter on the horizon, this retreat will inspire you to enliven the body and introduce you to the benefits of turning your awareness inwards, helping the mind to feel calm.
Inspiration Space's 2 night retreat will be held at www.42acres.com, Somerset's wellness retreat for those seeking sumptuous simplicity, combines the powerful healing technique, Transformational Breathing, deeply nourishing Yoga and Meditation. Recently voted 'One of the most relaxing retreats in the World' by Tatler Magazine, there will also be a chance to indulge in some body work with top massage therapists.. With a variety of rooms all designed by Jo Berryman, whether you opt for a shared multi-layered, Nomadic Loft dorm or go solo in the Grand Suite, you will enjoy the finest of style, comfort and company.
The Venue
42 acres is Somerset's stunning new wellness retreat for those seeking real transformation. "We work with the land and its abundance of natural resources and we use biomass and solar power to generate energy for the entire space. We have used reclaimed materials to both build and outfit the property, mixed with the influence, style and expertise of designer Jo Berryman".
The huge renovated farmhouse is just outside Frome and the sunny reception space is just the start of this wonderful wellness retreat experience. With the French doors leading out to view across the 42 acres of private land and 700 acres of the surrounding ancient forest, theirs not really an excuse to move on from this room at all……until you see the kitchen, the reading room, the yoga & breathing room, the bedrooms….we didn't want to leave…and that's why we are going back.
Image Gallery